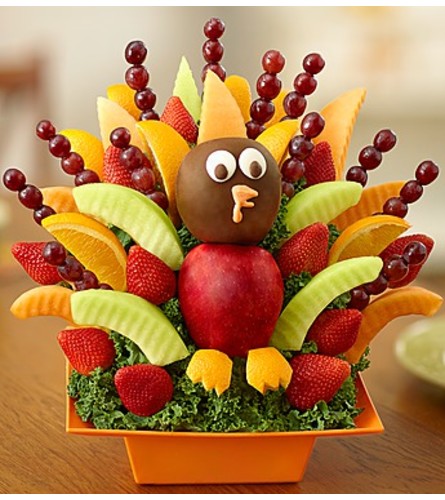 's Perfect Bouquet
It's Turkey Time™
---
Description
---
This Thanksgiving, finish the feast with a fun & festive treat. Our unique fruit creation is designed to look just like a plump, juicy turkey. Complete with two crisp apples for the "head" and "body" and an assortment of juicy melon, strawberries, oranges and grapes for "feathers," this delicious dessert is guaranteed to get gobbled up!
Allergy Warning: Fruit Bouquets products may contain peanuts and/or tree nuts. We recommend that you take the necessary precautions based on any related allergies.
Product ID 107965
Approximately 11"H x 12"D
What People Are Saying
---
Veronica
January 08, 2021
I was very disappointed the flowers were old and the arrangement doesn't look like the picture at all. I pay to much money for old flowers and small arrangement
Flowers were delivered on time and they look beautiful. Country Cousin's does a great job. I have been using them for two years now X they never fail.
Absolutely beautiful arrangement just as I wanted. Delivery was perfect for Christmas Eve. Will always order from Country Cousins. They have the freshest flowers and wonderful service.
Reviews Sourced from Lovingly
You May Also Like
---