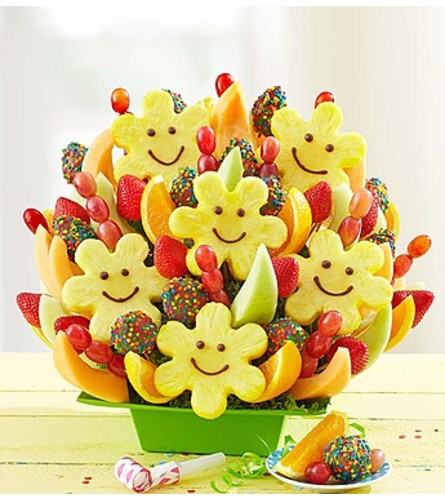 's Perfect Bouquet
Share a Smile Bouquet™
---
Description
---
Go the extra "smile" with this fun, fruit-filled arrangement! A party-ready mix of fresh strawberries, juicy orange wedges, grapes and two kinds of melon are joined by the happiest pineapples you've ever seen.
Fresh fruit arrangement includes a mix of strawberries; strawberries dipped and rolled in confetti sprinkles; orange wedges; honeydew & cantaloupe wedges; grape skewers and daisy-shaped smiley face pineapples arranged on a lettuce and kale base. Allergy Warning: Fruit Bouquets products may contain peanuts and/or tree nuts. We recommend that you take the necessary precautions based on any related allergies.
Product ID 145155L
Approximately 11"H x 11"W
What People Are Saying
---
I ordered from put of state with no issues and when I called with a question I was greeted very kindly and all my questions awnsered. I appreciate how easy it was and how beautiful the flowers turned out. I definitely will be using them again soon.
Francesca
November 06, 2020
Great customer service, lovely flowers delivered quickly.
I live in PA. I ordered a birthday surprise for my cousin in La Habra. I chose Country Cousins not knowing what to expect..The flowers arrived just as she was leaving her drive way..Great timing! She was delighted with the arrangement and the surprise. thank you!
Reviews Sourced from Lovingly
You May Also Like
---